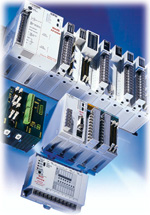 Advantages of PLC Control
Programmable Logic Controllers from Matsushita represent "control advantages" that will pay for themselves right from the start. Matsushita PLC offer a complete range of the latest in automation technology.
FP0 – The new high-tech PLC
Even in the smallest size it offers a powerful 16bit CPU running at 20MHz, combined with a 500kBaud serial bus. The very new and powerful features of FP0 and the smallest size offers users new application possibilities starting from 10 inputs/outputs, up to 128 I/Os.
Another example is the successful miniature FP1 controller. This range of ultra-compact controllers is not just an intelligent alternative to conventional contactor- or relay control systems. The expansion facilities and the special intelligent modules provide the user with the capability and flexibility of a high-grade automation system which can handle even complex tasks.
The new FP2 series covers a wide range of PLC applications very efficiently and offers high performance in the smallest size. Depending on the application, all expansion modules can be combined manifoldly – for example for digital and analogue signal processing. Moreover a whole string of FP2 CPUs is available. These so-called FP2 Embedded CPUs have various functions already built-in.
The FP2SH-CPUs integrate the high performance and expandability required for intermediate-scale PLCs. At a speed of 30ns per basic instruction step, the system can execute a programme of approx. 20K steps in a scan time of 1ms.
With PROFIBUS DP and FMS, Matsushita offers the user a powerful programme for communication at the intermediate and lower hierarchy levels. As European Standard EN50170, PROFIBUS is the major open field bus for manufacturer-independent automation systems communications.
Programming language
The expansion facilities and networking capability of all PLC series from Matsushita are also ensured by the standard cross-system programming software. One software set is now available – from the FP0 micro PLC, through to the FP10SH controller, and conforming to the industry standard IEC 61131-3.